Elizabeth and Ross are a young and gorgeous couple (he is English and she is Spanish), with an adorable child named Oscar: they live in Great Britain and they chose our beautiful Italy to say YES, I DO. I cannot even immagine a more romantic and fairy-like proposal than the one Ross managed to plan for his Elizabeth.
Many words were spoken during our meeting. Elizabeth told me with great emotion how Ross proposed to her on a ferry boat trip, during an excursion in San Fruttuoso of Camogli. A magic place for an unforgettable and special moment of their life. The Wedding Destination could not be anything other than our beautiful Riviera and the location chosen by the couple was the amazing Castello Brown in Portofino with a breathtaking and unique 360° view over the bay.
During their March trip Simona, White Book, the very efficient wedding planner, managed to fit every important date for the couple in just two days to make sure everything is perfect on the wedding day: the visit to the Castle to decide in which of the beautiful rooms hold the wedding and the reception, the hair and make-up and last but not least the meeting with the photographer for the pre-wedding shooting.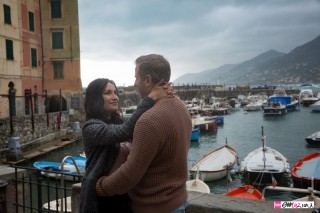 We have opted for Camogli where there are so many amazing Ligurian corners to see: difficult to choose one but Camogli has always held a special place in my heart so the chance to shoot some photos during a winter week day was too irresistible.
During the Spring week-ends this little village is always very crowded with tourists. Elizabeth and Ross had the chance to see it almost deserted, pervaded with saline from the recent seastorm that made the location look even more fascinating and wild. They were awed by the its beauty and by the pastel-colored houses built very thightly one next to the other almost as to protect one another.
Before the shooting we enjoyd the view while we ate the famous cheese Focaccia and had a cold beer by the sea: a wonderful moment for them as it was the first time but also for Simona and me that are familiar with it.
What more can I say? I felt very lucky to be there with them doing what I love the most: photographing a couple in love in a fantastic location that never stops to amaze me and giving me goose bumps.
The next time I will see Elizabeth and Ross will be in September. I cannot wait to tell you all about their wedding day that will be surely a fairy tale in one of the most romantic places in the world.