I have met Simona, Matteo and little Damiano almost two months ago for a very colorful and funny maternity shooting in High Val Graveglia.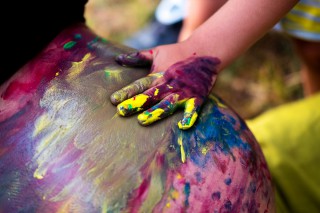 http://www.fotoemozioni.eu/il-colore-dellamore-maternity/
Yesterday I got to meet little Leandro,the new member of the family just two weeks old, and I had the honour to photograph him, this time in my studio.
Such a magical moment that I find it hard to describe.
Having the chance to shoot Leandro while he was still in his mommys belly, been able to tell all the emotions that precede the birth…I felt exited and priviledged to have this duty.
Yesterday I lost myself in his deep blue eyes, I looked at his perfect tiny hands holding tightly to his mommys fingers searching for protection.
I guess I have been one of the first people to know that Simona was in hospital giving birth. We should have seen each other that Friday night in my studio as I wanted to deliver the photos of her maternity shooting. I texted her in the morning to postpone the time of our meeting and she immediately replied saying that she was in hospital because Leandro was on his way into the world.
A few hours later I received a second WhatsApp message: the sweetest photo of her just second after giving birth holding her little man still wrapped in the green hospital sheet: "Hi Daniela, I'm definetely not going to make it tonight!"