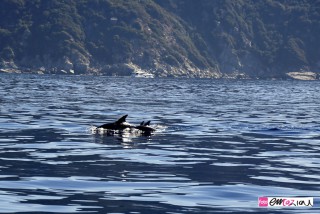 When I said yes to my parents invitation to take a break from work and join them on a boat trip in our fantastic blue waters,   surely I was not expected such a great surprise.
The place where I live offers stunning and breathtaking landscapes, especially if you are lucky enough to admire them from the sea.
Many are the stretches of the coast in the Riviera di Levante that thanks to their geographic position are easily accessible and more admirable from the sea than from the land (San Fruttuoso di Camogli and Cinque Terre just to name a few).
Sea colours and depths along these indented, wild and unknown coast (reachable only by sea) are amazing. I very well know this part of the coast as I swim in this sea since I was a child. When I was a little girl, my dad used to take me and my family to swim between Zoagli and San Fruttuoso ( back when the place was not yet Natural Reserve of Portofino and you could even swim in the astonishing Cala dell'Oro).
I cherish the memories, the feelings and the emotions of these precious moments of these boat trips close to my heart!
Meeting dolphins is something that happened to me only two or three times in my whole life usually during boat trips, at sunset, when there are not many boats around and the noises calmed down.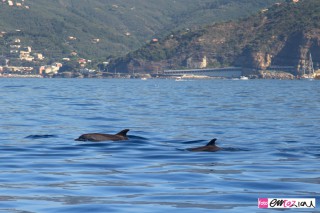 I remember once when a couple of dolphins came so close to our boat (a three metres boat!) and they started following us almost like they were trying to play with us. I was so thrilled, looking down at them and all I could think was that I would have loved to jump into the water to swim with them (isn't it everyone's dream?). This was definitely the time I saw them closer and better!
When, yesterday, we saw these incredible creatures it was full day and the last Saturday of August. Many the boats around us including the ferries that run from Tigullio's small cities to Cinque Terre. We certainly did not expect to get so lucky to meet dolphins amongst this commotion. But then there they were, three or four them, peering out of the water between Sant'Anna tunnels and Sestri Levante, exactly in front of the famous Baia del Silenzio.
Countless times I had the privilege to shoot in the stunning Baia del Silenzio  in Sestri Levante  and almost every time from the beach, rarely from the sea.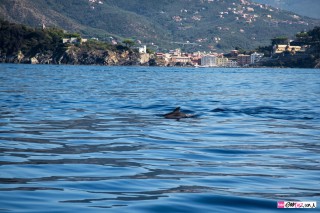 Just about all my leading characters are couples in love or newly weds who choose such a special place for their shooting session.
Not this time, this time I got very lucky!
No arrangements were made, no preparation and no meeting point…they just appeared on the scene in all their splendour and gorgeousness giving me an extraordinary and huge emotion: four cheerful Dolphins emerged from the sea making my morning boat trip unforgettable!
Shoots surely will not compete with  Nationalgeographic ones but been able to capture them with my camera (especially considering the time of the day and the summer full on) made me feel over the moon!!!
A relaxing couple of hours for Fotoemozioni to recharge the batteries in order to face the afternoon shooting relaxed and full of  energy!