Happiness is in the small things like a photo shoot in a colored spinning wheels factory.
A few days ago I met with Giovanna and Danilo for a quick shooting before their wedding day. A very particular session, a little different from the usual.
A unique photo shooting that cannot be classified in one word: a pre-wedding one but above all a family shooting with a little help of a fur friend ( Achille, the very lovely puppy, often stole the centre of the scene and posed as the main character of my photos) and one that I have not done before but that I can easily call "my job is my passion".
As a matter of fact these photos tell you all about the every day life of a couple: family moments, loved ones and work that, in their case is also a great passion.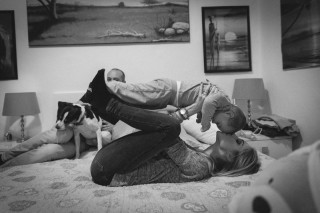 I have spent the afternoon together with a wonderful family: two amazing and very young parents of a beautiful baby boy, Christian, and a very clever and funny dog that the only thing that lacks is word. As usual time literally flies when you are happy doing something you love.
I realized quite soon that Giovanna and Danilo were feeling very confortable during the shooting so we went on talking between one photo and the other to get to know each other. After all the photos were not that important anymore and they took the backseat.
A lovely chat in front of a cup of hot coffee and some delicious buiscuits (that have immediately attracted Achille's attention) talking about the wedding day as well as their job and then some intimate photos inside their home playing on the big bed at first and then with Giovannas palettes and the make up brushes, irresisitible for little Christian.
Giovanna and Danilo told me a lot regarding the family business, the Giobas, founded in 1953 and now run by the forth generation of the family. What's so special about it?
Let me tell you: everything.
It is all about magic, colours, fantasy, happiness, creativity, dreams: it is devotion, passion, togetherness but also sacrifice.
A spinning wheel factory well known all over the world that, during its life, ad produced over 200 hundered different types of wheels; a "simple" toy that makes happy children of every generation. It is not my place to tell you more but have a look at their website (link below) to find out about their family and about the story of the factory.
http://www.girandolegiobas.it/en/company.html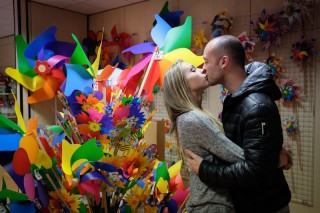 What I can tell you is the astonishment and the wonder that my eyes saw when I enter their show-room: an explosion of colours that leaves you speachless even as an adult. So many spinning wheels of every dimension and shape. A very bright and stimulating enviroment. Not only the wheels were beautiful but also safe and done to perfection, proudely MADE IN ITALY, a unique craftsmanship that makes our nation always so famous.
What strucked me the most is the factory history which is also Giovanna's family history and the enthusiasm of this young couple, in love with their job, proud and eager to tell the world about it, to be part of it and to be its future.
It is with my heart and my mind that I try to go back through the years when Mario Basso had the idea of creating this all, after the war when there was nothing left but the dream of a new beginning. He has been great because his only thought was to start again for the children, after the dark years of the war filled with the fear of the hunger and the bombs. He managed to bring back smiles, colours and hope in the life of the little ones building a toy using only the few materials left , a toy that every child loves to this day.
Seeing Christian running around the show-room among all those coloured spinning wheels with a smile on his face was great fun. Children do not need much to be entertained. I would say…a life full of colours and happiness that here in Giobas are guaranteed. Heaven on heart.
A spinning wheel… the same simple toy used by the after war children is still making children happy today in 2017.