What do we mean by "Trash the dress" reportage?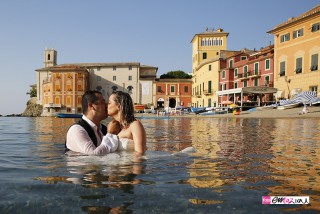 One of the shootings that we love to offer to the newly weds is the "Trash the dress" one. But which is the idea of it?
We think that (as well as for wedding shootings) there are different ways to interpret it. As always, here at Fotoemozioni, we like to take spontaneous and genuine photos but it is also possible to literally create a set to take bizarre and funny shots.
However, unless the bride and groom have a precise idea on what to do, we prefer to go natural and let them have fun wearing their dresses.
The all point is to allow the couple to enjoy the shooting without having to worry about crumpling the dresses (that does not mean they will get completely trashed), nor to let the guests wait for too long.
The type of reportage that we propose (we do call it this way as we consider it almost like the wedding day), is a shooting that will provide the couple with carefree, romantic and/or funny photos to be taken in a special place at their discretion.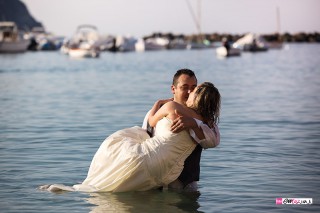 "Trash the dress" will allow us to have full liberty as it is possible to choose the time of the day with the better light without having the concern to be back at the restaurant nor to crease the dresses too much while taking original shots.
Please clic on this link to read more about "Trash the dress" in the interview we have to the wedding portal Zankyou.
http://www.zankyou.us/p/trash-the-dress-ovvero-quando-la-fotografia-di-matrimonio-sposa-la-creativita