1) Who is Daniela Polimeni ?
Good Question! A woman first, creative, sensitive, with many interests and passions.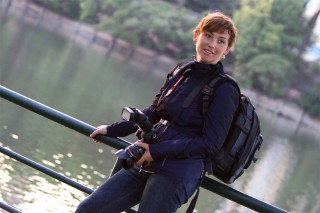 In addition to photography I love cooking, music, holistic health, travelling and … I have a long list on my desk.
I've always loved  photography for as long as I can remember but at some point in my life, this love turned into a real passion that made me wish for it to become my full time occupation.  
Shooting makes me feel thrilled and full of energy.
I am often told by the bride and the groom that they appreciate the passion and enthusiasm with which I work.
It is true. Photography  is my passion.
Documenting special days like weddings with my camera as they happen feel like a gift to me.
I like to think about myself as an onest, straightfoward and handy person. I can be flexible and also happy to work with other professionals.  I am a descreet person and I like to do my job without being instrusive. I try to be the change I wanto to  see in the world
2) Who is Fotoemozioni?
When in 2010 I had to choose a name for my business as a photographer, it felt natural to go for a word that could express what I wanted the viewer to feel, which is, the same powerful emotions that  they felt on that special day.
For the future I dream of involving other professionals, sharing  new ideas and big projects.
3) what is FOTOEMOZIONI photographic style?
Naturalness and spontaneity is the core of my work. I approach each session with an open heart and an eye for genuine emotions, intrinsic details, and trying to catch every meaningfull detail and  what is most important to my clients. My aim is to give them the images that I would want for myself : beautiful, fresh, and most of all, authentic. 
There are  no forced smiles and no cheesy poses in my photographs.
My favourite photos, the ones I'm most proud of and that give me most satisfaction, are those in which the subjects don't even realize that they have been photographed.
Whether it is a wedding photography, a birthday party or a vacation day, my goal is to tell your story and express with my photos authentic emotions.
My favorite photos, the ones I'm most proud of and that give me more satisfaction are those in which subjects not even realize they have been taken because busy with other matters.
In wedding photography, my goal is to give to the couple images that will enable them to relive the same, intense emotions of their big day. This is the best  day of their lives and I know I special it is. I am honoured  to tell thei incredible story and photograph weddings  with the same passion and dedication as if it were my own.
I consider building relationships with my couples  the heart of my business. Getting to know your story and who you really are is crucial for me and it is the key to shoot the way I like.
By the time the wedding day rolls around I will feel more like a friend and someone you can completely trust. I like to keep things simple and natural all day long. I am definitely not here to make your wedding day more complicated.
I will offer guidance and direction but will never make things stiff or unnatural. I am discreet, efficient : I will capture the big moments of your day as well as the ones that are commonly overlooked, such as a young girl chasing a butterfly.
4) what are the services you offer?
Wedding Photography, couple session, engagement, trash the dress, honeymoon photography, birthday parties, … and any special and important event that you want to remember forever with  stunning and professional pictures
I also make digital photo albums for every important occasion
5) Why do you suggest two photographers ?
Our wedding day coverage includes a second photographer ( at least for the most important moments of the day ) so that we can document moments that happen simultaneously and further enhance the collection of photos that you receive. Choose two photographers allow us to show the bride and groom images from different perspectives, in every moment of the event.   In case of religious ceremony two photographers will surely be more descreet than one as they will not be forced to run around the church trying to catch every moment from different angles.  Furthermore, we will be able to follow both bride and grooms dressing up without anticipating one of the two, but following the natural  course of the day.
6) How can we prepare in advance of the wedding day?
From our first meeting, I want the couple to feel relaxed and stress free . Before the wedding day, I meet at least a couple of times with the couple. I ask them to tell me their story. I observe them interacting. I I need to know them and understand what they want for their wedding. What do they expect from me as a photographer? what is the most important point of the day? what is the picture that can not be missed?
I ask them a lot of questions and take notes, to be sure not to forget anything on their wedding day.
For example I ask the couple if there are photos that they absolutely want ( a picture with a grandmother who may remain only during the ceremony, a dear friend, a distant relative, a beloved dog… )
It is very important to know the couple's wishes, because each of us is different and has very specific needs and desires. I like to be CLEAR and TRANSPARENT .
7) How do you manage the workflow on the wedding day?
The wedding day, most of the shots is captured in reportage style, without any kind of direction.
I will show up early to capture all your details and moments prior to the ceremony.
The second photographer  is not requested to photograph the groom getting ready, they go very early to the the ceremony location and document all the details such as flower decorations and the arrival of the guests.
During the ceremony we are descreet and the respect the sanctity of the occasion.
8) What are your areas of work?
Wedding, family photo-shoots, engagement, pregnancy services, honeymoons, any kind of special event
9) How do we book?
Email me for my availability and pricing and then we can chat some more
To secure a date I will require a booking fee and a signed contract
The next payment is required only after marraige ( 30-45 days ) , to the delivery of high quality files (I give directly full resolution  files on a little USB drive )
10) How far in advance should we book your services?
My suggestion is to book as soon as you fall in love with my photos and you decide that you want me as your wedding photographer, especially if you're getting married on Saturday and Sunday in the months of May, June, July and September .
Sometimes some dates are booked 1 year in advance, but do not hesitate to ask if there is availability on short notice.
If you prefer to get married in the middle of the week for me there will be more availability.
11) How much will I pay for my photos?
I live with emotions and it's very difficult translate emotions into money.
For this reason I work to coordinate and plan the most effective and precise package that would meet your economic needs, or something like that.
In Italy people usually celebrate their marriages during the weekend, that's why prices are higher on weekends
If the wedding is during the week we can find a more economical solution, with our usual standard quality form to achieve the best views of your unique day.
Otherwise, the cost  depends on what type of service you want to book.
I propose many solutions, from photo shoots  ( short or long  photo session )  with the delivery of the files on USB key,  at full resolution to a complete package which includes  photos delivered on USB key,  album , video, engagement session and   wedding selfie book. During these past years I came across many different types of couples and for this reason I developed an offer that, in my opinion, is able to meet everyone's requirements without putting at risk one of the most important features of my job: quality.
I want the bride and the groom to feel free to decide also after their wedding and after seeing my shots of the wedding if they want to  entrust me with the creation of an album.
For that reason I make also separate proposals: one for the wedding photo service with delivery of the shots in the highest resolution and then separate proposals for album and phots books  ( I propose only album and photo book of the highest quality and made in Italy of two prestigious Italian companies: CELEBRA and 5PUNTO6 )
The cost of photo books and albums can really vary greatly,  dependent upon the quality selected by the client. The final cost is influenced by many parameters including: the album size, number of pages, type of materials used, type of binding, finishing (engravings of names ), size of photos to print and print type (ex . fine art) in the case of traditional albums, packaging and accessories (packing, extra albums for parents and relatives)
Upon request,  I can make a customs quote.
12) How long do I have to wait to see the photos? 
Usually, after 4-6weeks I can give you all the photos that have been made during the wedding day if it is not a very busy period (on USB key, at full resolution ).
13) will I receive the digital files?
Certainly. I deliver full resolution, un-watermarked pictures. ( .jpg )    After the delivery of the files in full resolution, the couple will assume the responsability for the conservation of their photos.
14) Who choose the shots and the wedding album?
The client.
Regarding the album layout and the photo selection, I suggest that the couple  makes it together, to create a product that is not only beautiful but also unique and tailored to the needs of the client.
15) Are you willing to follow us abroad?
I am based in Chiavari, between Portofino and Cinque Terre, in the stunning Italian Riviera, but I am available for travel toother part of Italy and across the globe.
We can evaluate  the costs for travel and accomodation.
I love to travel and I love to take pictures, especially doing the  two together!  So don't be afraid to ask me to follow you anywhere. Can't wait to meet you.